Bus I, leaving MVJHS, has mechanical problems and will be unable to finish its route. Two buses, M and A, are currently in route to pick up students to continue normal drop off.
CMES would like to let parents know that we held our first lockdown drill of the school year this afternoon. The students responded well and the campus was secured quickly. Security checks were completed by administration with a deputy from MCSO. The information gathered from today's drill will be used to improve procedures going forward. On another note, the school has upgraded the visitor and parent pick-up procedure. Using Verkada Guest, all people visiting and picking up students, will need to present an identification to be scanned. This will be true for all parents and guests whether you are known to us or not. Please do not attempt to visit or pickup without having your identification. Thank you for continuing to support CMES as we implement new procedures to improve the safety of all students and staff.
Coyote Families, In response to the needs of the kids and some concerns that they are already dealing with some anxiety due to storms and power outages, the lockdown scheduled for this week will be pushed back prevent overwhelming any of the kids. The specific date is not determined, but will be finalized as our community gets back to normal after this past weekend. Hopefully, this will be before the end of next week, but we want flexibility in case circumstances warrant. Classes have previously discussed procedures. So, the drill would just be practicing those procedures. Thank you for continuing to support CMES. Please email Mr. Cottrell at
cottrellr@mvdistrict.net
with any questions.
With the storm this weekend, we were not able to notify parents and families of our upcoming lockdown drill. This week students and staff will be practicing to ensure procedures are known by all students and staff. Additionally, we use drills to identify procedures that can be improved. If you have any questions, please email Mr. Cottrell at
cottrellr@mvdistrict.net
. Thank you and everyone be safe.

Parents and Guardians, I hope this message finds you and your family well in light of the recent storm. We have been closely evaluating all of our schools and their conditions. At this time, all schools have power and are being mitigated for any safety concerns, and as a result, MVESD will be on a regular schedule tomorrow (9/6/2022). Please know we are sensitive to your circumstances and will provide maximum flexibility when it comes to you and your child. We will continue to communicate if unexpected circumstances arise and ask for your understanding and flexibility as we go into the week, knowing our staff members were also affected personally by this weather event. Hoping for the best when it comes to you, your family, our District, and our community. Please communicate with us if you should need anything.
Parents and Guardians of Children riding Route G: Route G is running at least 30 minutes delayed due to mechanical failure. A bus is in route to transfer students and drop them off at the remaining stops on the route. Thank you for your patience. If you should have an emergency question, please call contact the Transportation Department at 768-8700. (9/1/2022 @ 3:40pm)

No School - Labor Day! Monday, September 5, 2022 See you on Tuesday!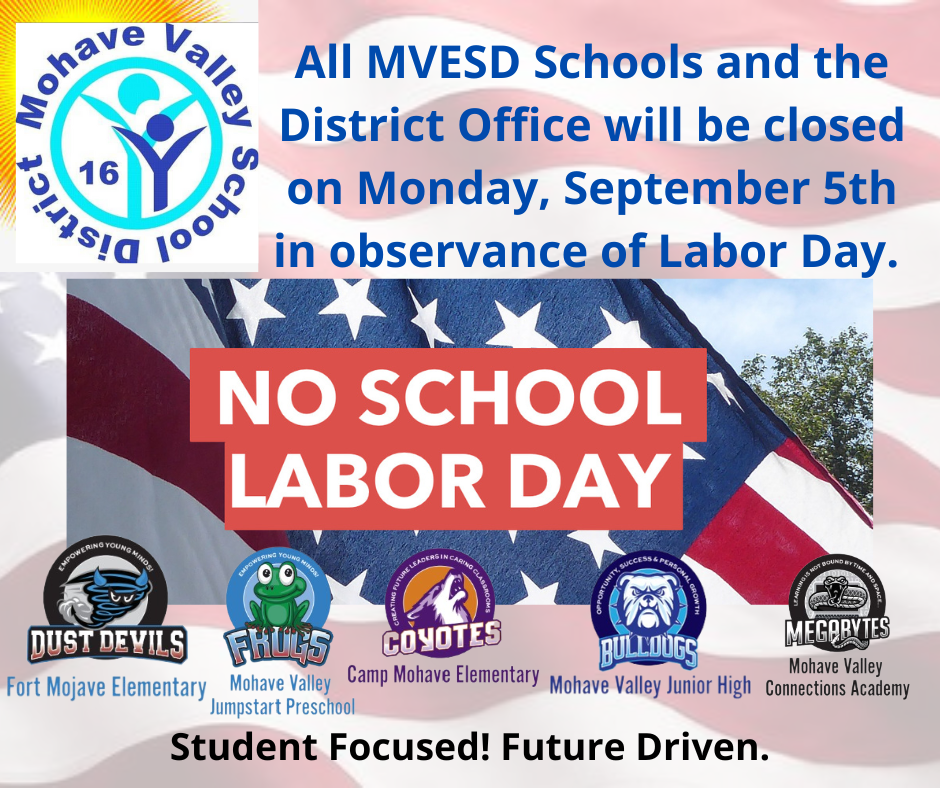 Parents and families, Tomorrow we will be having our first fire drill for the year. Please discuss the importance of following the emergency procedures with your child this evening. Additionally, early next month, we will be having our first lock down drill. When this gets closer, we will send out another notice. Should you have questions about any procedures, please email Mr. Cottrell at
cottrellr@mvdistrict.net
. Thank You for being a part of the Coyote Family.
Bus routes have just left Fort Mojave Elementary. This puts routes approximately 10 minutes behind schedule. Thank you for your patience.
MVESD Open House: Fort Mojave Elementary School - Tuesday, August 9, 2022 - 5-6pm Camp Mohave Elementary School - Wednesday, August 10, 2022 - 5-6pm Mohave Valley Junior High School - Thursday, August 11, 2022 - 5-6pm Why you should attend - Meet your child's Teacher(s) Overview of academic and behavioral expectations Introduction to grade-level standards Opportunities to support your child/school See the facility and classroom(s) Complete any paperwork still needed See you there!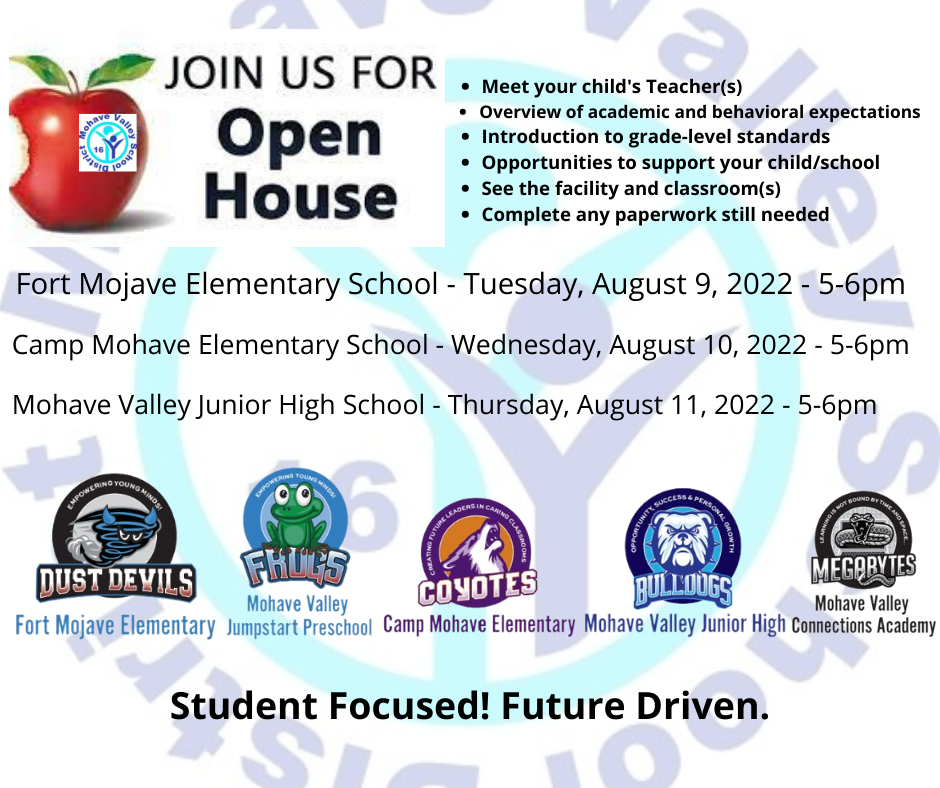 Buses have now left Fort Mojave (about 15 minutes behind schedule). Please be patient. They are on their way.
Buses have left Camp Mohave (about 10 minutes behind schedule). They are on their way to Fort Mojave and we will update you when the buses leave the Fort.
FMES, Breakfast will be served in the cafeteria. All other students will report to the playground. Teachers will be there to greet you and line up when the whistle blows. If parents choose to stay, please give kisses and hugs at the classroom door and depart promptly. It is important that our teachers begin their routines. Your child will bring home a Back to School Packet after the first day of school. Please return promptly. For parents who plan to pick up your child from school, we have a new plan. With this change, comes new protocols as well. The gate will only open once all the buses have arrived. Once the gate (to the right of the office) is opened, you will walk directly to the cafeteria along the designated path to check out your child in a nice cool environment. We will have support staff present to support parents. Only parents are allowed to pick up students after school. It is very important to know that you will be required to show identification. Please contact the school if you plan to send someone from your emergency contact list. They will be required to show identification as well. It will be your responsibility to inform your emergency contact of that requirement. Please be patient with us on the first day. It is a new system with some new faces and we want to make sure children are delivered to each parent safely.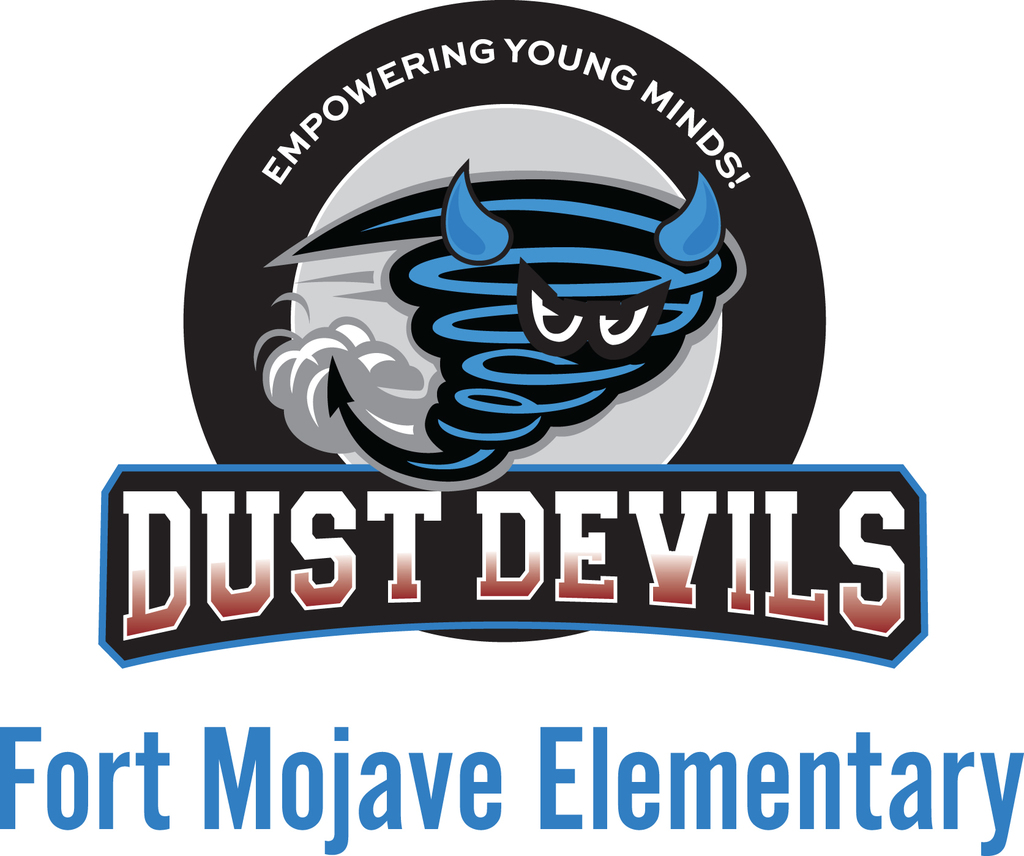 CMES wants to remind everyone that the first day of school is tomorrow. get a good night's rest, and we will see everyone tomorrow morning. Gates open @7:15 and tardy bell rings at 7:45. Let's make the year the best ever. Coyotes ROCK!!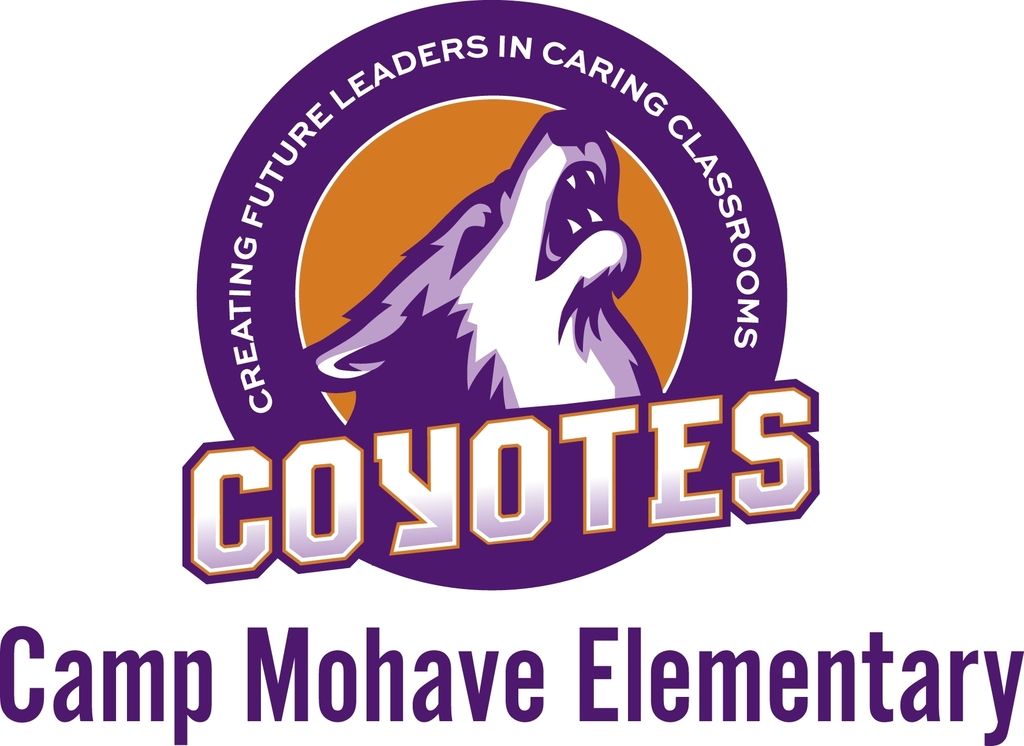 Fort Mojave Elementary Parents, Meet the Teacher from 3-6pm tonight! Come see us in the library to purchase school shirts, sign up for Boy Scouts, confirm bus pick up and drop off times. We will have an Open House August 9th from 5-6pm where you can learn more about the academic and behavioral expectations from your child's teacher. Please remember to fill out the meal service income application. It is important that you fill it out even if you think your family will not qualify. To apply for meal services, please use this link:
http://www.ezmealapp.com/
Breakfast - $1.75, Lunch - $3.50 each day The first day of school is Monday, August 1. FMES will always provide each student with basic supplies. Each teacher will have a "wish list" posted in the classroom at Meet the Teacher Night if you would like to make a donation. Classes begin at 8:00am, tardy bell rings at 8:01am. It is important that your child attend each day on time. We welcome parents on campus the first day of school, but please remember it is important that teachers are able to begin their classes on time and begin those routines and procedures. Please give kisses and hugs with a quick departure. By the end of the week, parents shall drop students off at the gate and not enter campus without an office pass.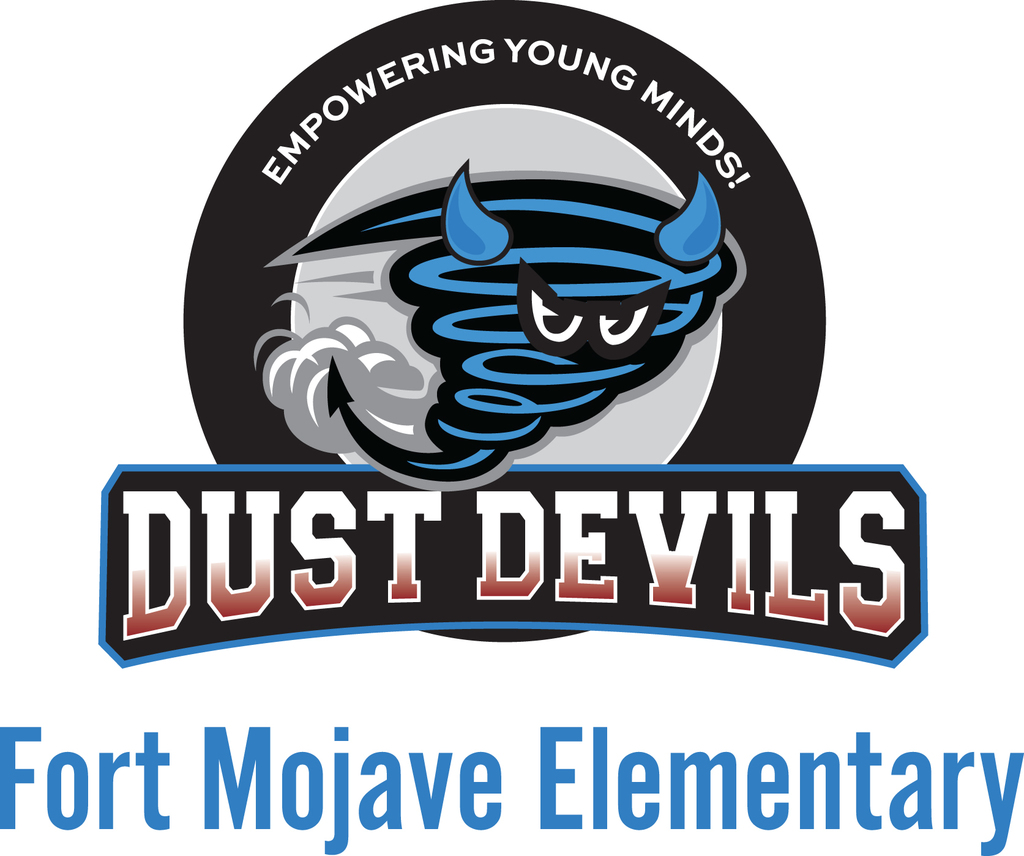 Please be advised: The District Office will be closed on Monday, July 4th, 2022 for the holiday. The District Office will be open Tuesday, 7/5/22- Friday, 7/8/22.
That's A Wrap! We are Enrolling Students for all grade levels ! Have a Great summer! Thank you for a Great Year! MVESD Jumpstart Preschool-Kindergarten Camp (Information/ Registration) M-Th - July 11th-22nd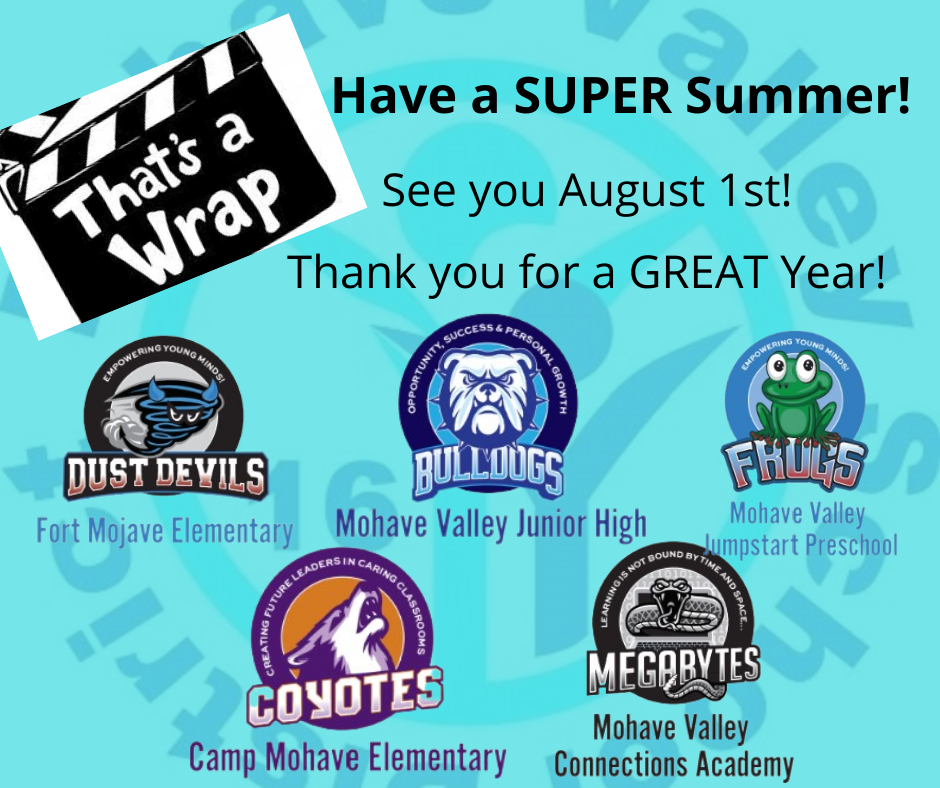 FME Water Day tomorrow- Kona Shaves Ice $2-$6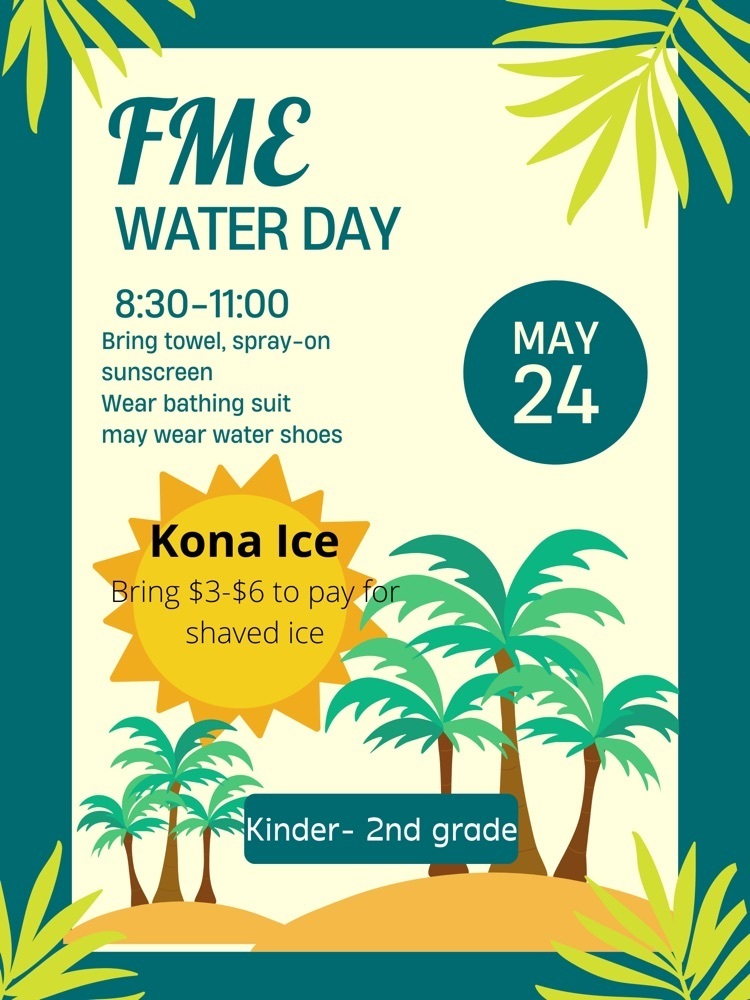 Attention parents of all route E students, due to unfortunate circumstances, route E students will be going back to their pick up and drop off times prior to Mr. Erv's return to driving. For elementary the times are 6:35 Cimarron; 6:40 Hulet/Mtn View; 6:41 Hulet/Harq; 6:42 Ann/Harq; 6:44 Mt. View/Jerome; 6:45 Jerome/Calle Del Media; 7:10 Kingsley/Oriole; 7:11 Kingsley/Center; 7:13 King/Evergreen; 7:18 Mohave Farms. For the JH, the times will be 7:45 Cimarron; 7:52 Ann/Harq; 7:52 Harq/Jerome. Please be patient as we make this switch back to previous transportation times.

The FME staff would like to give a huge thank you to Walmart- Fort Mohave store for the cookies and $100 gift card that will go towards updating our teachers lounge.