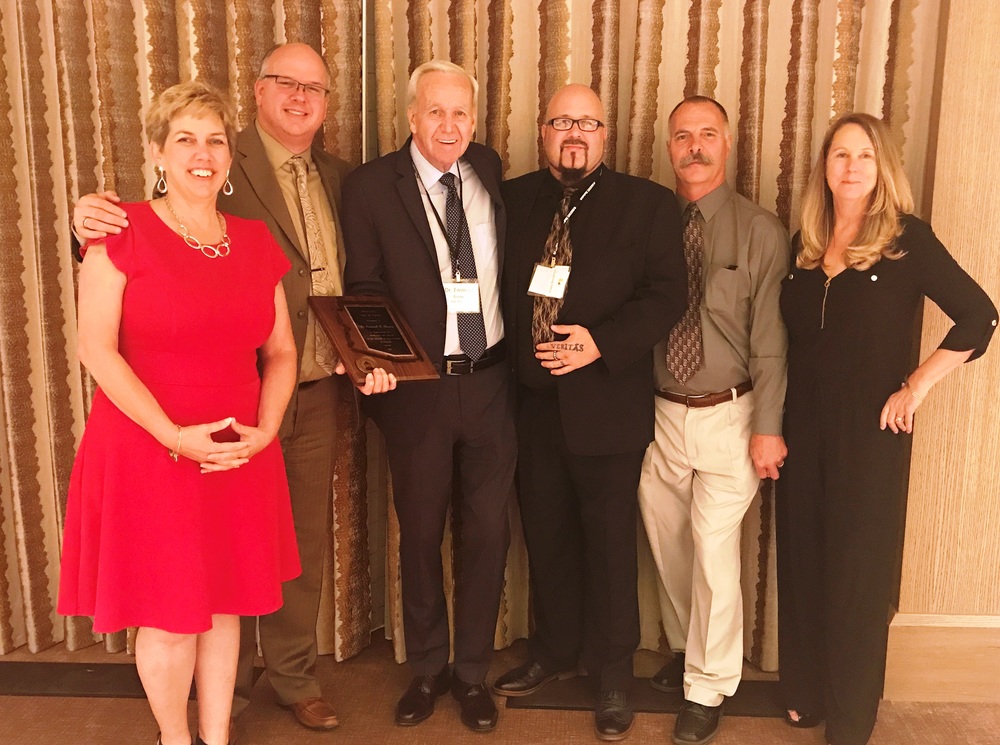 Former Superintendent Inducted Into Hall of Fame
MVDIstrict
Sunday, September 17, 2017
Congratulations to Dr. Emmett Brown, former district superintendent from 1988-2004, and Governing Board Member from 2012-2016, who was recently inducted into the Arizona Rural Schools Hall of Fame at a ceremony in Flagstaff on September 15th.
Dr. Brown served Mohave Valley Elementary School District as superintendent for over 16 years, and subsequently has been Mohave Valley's longest serving superintendent to date. During his tenure, he managed the district's growth from 900 students on one central campus, to over 2000 students on four school campuses.
As part of the district's exponential growth which led to running a capital bond program, Dr. Brown's leadership was responsible for bringing technology to Mohave Valley Schools. Ahead of the School Facilities Board's push to wire every school, Dr. Brown included a $1 million provision in the capital bond program to fund computers in Valley schools. After extensive research, Dr. Brown's plan shied away from the traditional computer lab where computers often set unused for long periods of time, choosing to place four student computers in every classroom where they could be continually used for small group learning centers, a model that continues in Mohave Valley Schools to this day.
To manage growth between building programs as well as looking to boost student retention rates that seemed to suffer over long, summer breaks, Dr. Brown led the district's change from a traditional nine-month calendar to a multi-track year-round calendar, to a single track 45-15 day calendar, and finally settling on a single track modified calendar based on parent requests for a longer summer. As an added benefit, the year-round calendars allowed the district to offer intersession classes for both remediation and enrichment opportunities for students, something that continued many years past his retirement. Dr. Brown was awarded the Pioneer Award for his work leading one of Arizona's first year-round districts from the Arizona Year-Round School Association.
Always looking to grow new leaders, Dr. Brown became an adjunct professor for Northern Arizona University, teaching local masters-level educational leadership classes in budget, finance, public relations, and school building problems and issues. Many of Mohave County's next generation of educational leaders sat under Dr. Brown's teaching.
Following his retirement in 2004, Dr. Brown served many small, rural community school districts by serving as an interim superintendent through The Arizona School Board's program in four different rural communities. His leadership and budgeting expertise helped many small districts transition through difficult times and leadership shortages. In addition to his interim work, Dr. Brown has mentored many area district leaders in all things related to school budgets.
Upon retiring from his interim work, Dr. Brown decided he still had some "give" inside him, and ran for an open seat on the Mohave Valley Governing Board, where he served four years until his retirement there at the end of his 2016 term.
Dr. Brown's work in rural Mohave County and beyond has led to a better Mohave Valley School District through his stable 20-year leadership, enriching the lives of his students, staff, and community through his leadership and vision for the school district Mohave Valley could become.
Congratulations Dr. Brown for an honor well deserved!
Pictured above L to R are Mohave Valley's Delegation to the Induction Banquet: Cristy Crow; Whitney Crow, current Superintendent; Emmett Brown; Jeff Brown; David Berard, former Director of Support Services and Camp Mohave Principal; and Hildi Berard, District Reading Interventionist.